Robust Compliance for Existing RTOs & CRICOS Providers
Registration & Consultancy Services
We assist existing RTO and CRICOS providers with a review of their existing systems and operations and help strengthen quality and compliance processes and evidence. We provide professional services in;
Extension to Scope (Add/remove Courses or Competencies)
RTO/CRICOS Renewal Applications
New Location/Campus/Additional CRICOS Campus (including interstate expansion)
Internal Review and Audit
In-house Staff PDs (competency-based training and assessment, regulatory standards, quality, and continuous improvement)
ASQA Audit Preparation and Attendance
ASQA Audit Issues and Rectifications
Section 26 Notice Compliance and Response
ASQA and AAT Appeals Preparation
We are dedicated to supporting and assisting providers who are committed, quality-oriented, and wish to protect, safeguard, and grow their businesses.
We shall be glad to engage and discuss strategies to ensure on-going compliance and minimising regulatory risks.
NEW: 2021 – ASQA's New Provider Self-Assurance Strategy
Self-assurance will now be an important part of managing risk in your RTO. ASQA has stated that Providers employing effective self-assurance practices demonstrate a commitment and capability to delivering quality training.
Self-Assurance will be mandatory for the RTOs and CRICOS providers from 6 April 2021
At E-Skills, we have always prepared and assisted our clients with a quality-based approach in managing compliance and RTO operations. We intend to enhance this process and provide self-assurance guidance, mentoring, and assistance in making sure that all RTO operations are quality-assured under the new ASQA directives/requirements.
Contact Us to disucss. Alternatively email us – [email protected] | Tel: 03 9620 3995
ASQA Audit Preparation & Strategy
Based on our internal review, we assist in developing an audit strategy that not only prepares for compliance audits but also helps maintain compliance at an optimal level in everyday operations.
We understand that sometimes audit outcomes can be adverse for even good RTOs. We have been assisting RTOs in need of urgent advice and ASQA audit resolutions over the last ten years. From RTO policies, procedures, and documents to assessment systems, we can review and rapidly deploy new measures to prepare for an audit, and also undertake post-audit rectifications. Our quality requirement is that the RTO has maintained consistency, high-level of integrity, and accurate student and training records in its operations.
We also assist providers under ASQA/audit duress, Section 26 notices (under the ESOS Act) and unexpected audit outcomes, and options for rectifications and ASQA and AAT appeals.
Quality-Based Approach Ensuring Continuous Compliance
RTO compliance is a continuous and quality-oriented process that incorporates all the operational areas of an RTO.
We assist RTOs in maintaining and improving compliance through the implementation of quality processes and procedures that automatically generate compliance evidence in day-to-day operations. We believe that compliance is not a separate regulatory matter but an integral part of everyday operations.
We extend our assistance in both VET Quality Framework (VQF)/Standards for RTOs 2015 (SRTOs), and CRICOS compliance regimes;
Reviewing existing systems and processes and making recommendations for improvements
Developing and implementing new RTO compliance systems
Training staff and conducting in-house professional development workshops
Organising and managing course validation meetings
Conducting internal audits
Establishing the required review and working committees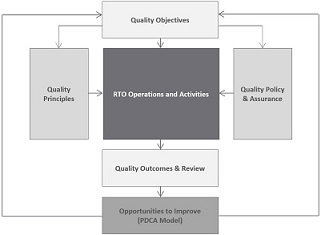 The above framework is our unique model for implementing quality systems in RTOs, supported by our robust RTO and CRICOS documentation and processes.
Our consultants are highly qualified, motivated, and have years of experience in assisting private and enterprise RTOs in the above areas. We also network with other professionals and can arrange expert advice in specific focus areas if needed.
Contact Us to arrange an obligation-free meeting or phone conversation. Alternatively email us – [email protected] | Tel: 03 9620 3995